I love love love the holidays! I live for this time of year (minus the cold, that I could do without). Growing up, my family didn't really have traditions around this time of year. Unless of course you count that every year we got our christmas tree a week prior to christmas and it stayed up until Easter - no joke!
Once I began dating Drew and eventually married him, I was introduced to some traditions he did with his family. Once we got married, I knew that we would have traditions. I knew that I wanted my kids to grow up enjoying this time of year and understanding why as a Christian it is important. So here are just a few of our traditions:
- Decorating: We put up our Christmas decorations up the day after thanksgiving. I am not big into black friday deals...I've never needed them and honestly, I hate crowds. So I am all for staying in, putting on some Christmas music and making my house Christmasfied!
- Turkey Day: Ok, so really the only tradition we have is we MUST watch the Thanksgiving Day Parade...must....
- Starting this year: We will be doing
advent
. My in laws have gotten us an advent calendar! I have wanted one but with parker being little, decided to hold off, this year though...we are doing it!
- Christmas cards - We do picture cards each year. This year I scored an awesome deal at Walmart.com!
- Christmas Eve - Pizza Night. Every christmas eve since being with Drew, we do this. His family has done it for many many years.
- Every year we get a new ornament that some how symbolizes the year. We have of course First Christmas, First House, A First Christmas ornament for Parker, Parker picked one out last year, and this year Parker picked out another....
So this bring me to my Aloha Friday Question:
What holiday traditions do you have?
You can join in. Head over to An Island Life for all the rules, ask a question on your blog and link up!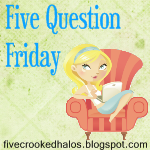 1. What
Christmas song do you loathe? Ah, I think the appropriate question is which one do I NOT loathe. No in all seriousness, I love Christmas songs, but I think it depends on who's singing it. I don't like Christmas song as sung by Mariah Carrey for example. If I have to name one song I loathe, it's the one that goes "Don't they know it's Christmas after all..."
2.
Do you and your significant other cuddle at night or sleep on opposite sides of the bed? Yes, we do both. We both move a lot in our sleep, so we start out cuddling but by the time we wake up, we are on opposite sides of the bed.
3.
Have you ever had surgery? Yes, my c-section. It was an emergency one, I was put completely under and ended up intubated....
4.
When do you typically have your holiday shopping done? I don't really do it in a time frame. If I find a great deal, I will purchase and store. We don't give a lot of gifts because we just don't have the money, so we usually do something special for Parker's grandparents and Parker and that's it.
5. If money were not an issue (and you HAD to pick something), what would your ultimate luxury item be? I like this question....my luxury item would be shoes. I am not even joking. To me this is luxury. Just give me money and I will find the cutest shoes around. I love shoes. Either that or a spa day...does that count?
Your turn, head over to My Little Life and link up after answering the questions!
1. Why does no one value marriage anymore? I just don't get it?

2. I would love to take a cruise to see the world.

3. Thank you for loving me in spite of my randomness and oddness at times.

4. Christmas is my favorite holiday because it was about the only time of year that my family came together and didn't fight. Also, because my Lord and Savior was born that day!

5. I am SO flipping tired tonight. I should be asleep since we are taking a small road trip tomorrow.

6. We make up our minds to be (who we are...) this one didn't make sense to me?!

7. And as for the weekend, tonight I'm looking forward to a girls night at my friend's, tomorrow my plans include choir practice, grocery shopping, cleaning and Sunday, I want to be as lazy as possible. I am going to be busy the next few weeks - aw heck, the next month!