Hi Sunshines! How has your week been? Mine has been busy - but that's not abnormal at all. Life is a little crazy right now, I have a lot going on, but am always thankful for Friday - my almost always 1 quiet day in my life! :)
I don't know where you live, but can I just say that here in Ohio - I am loving the 60 degree weather. Take that negative temps! I am not a fan of winter - especially and mostly because I hate cold weather. But today - it's beautiful, I am sitting here at not even 9am with our windows OPEN!
LOVE!!!!
I am thinking that me and the kiddos (I have an extra one today as I am babysitting!) might go for a walk or something later....it's to beautiful to not enjoy the outdoors!
Thinking about spring and summer got me thinking about Ice Cream! And that got me wondering...
What is your favorite flavor of ice cream?
Mine without a doubt is:
I just recently discovered this delicious treat! My favorite flavor used to be Chocolate Chip Cookie Dough (which I still love!) but this one has definitely topped my list!
Want to join in on Aloha Friday? Head over to
An Island Life
for the rules and to link up!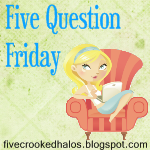 1. Have you worn the same outfit more than one day in a row?
Yah, I am a mom and some days I simply just forget to get dressed - I know, I know - gross!
2. If you had to choose any LARGE city to live in, which would it be?
Define large - for a girl who grew up in the midwest in a fairly decent sized town in the country to me where I live is large (Columbus, Ohio.) But if you are talking like NYC, LA, type large I'd choose probably NYC.
3. Fly or drive with kids on vacation?
I hate flying in general, so anytime we can drive I am content to do so.
4. What is your idea of "spring cleaning"?
Purging, cleaning, organizing...
5. What is the best book you have ever read?
I am not a reader most of the time...and when I am I am picky, but I have always always always loved The Diary of Anne Frank! Also I like Motherhood: The Guilt that Keeps on Giving!
To join in the 5QF fun, head over to
My Little Life
for the rules and to link up!