Question: Today is your last on earth - what do you request as your last meal???
I would ask for spaghetti, wait, no strike that. I would ask for Chipotle. Maybe both?
Your turn, head over to
An Island Life
for the rules and to link up!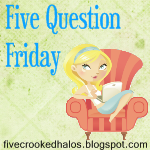 1) Have you ever had surgery?
Yes, Parker was born via c-section. Also, I have had my wisdom teeth out - so I've had oral surgery.
2) Ever ride in an ambulance?
Yes 2 times - first time I was in an accident and was taken to the hospital when I realized I couldn't move my head well - severe whiplash. The 2nd time was when I had to go with my not yet father in law to the hospital - this story is so funny. I was up visiting Drew and his family for a week and Drew got ill, so his mom took him to the hospital to the ER because he couldn't breathe. I was at home with Drew's dad because he had the flu (or so we thought). I was down on the couch watching tv when Drew's dad came down and said "Call 9-1-1" So I did. Try explaining that to the guy on the other line. It's my not yet father in law who needs an ambulance, oh and my fiancee and his mom are already at the ER because he couldn't breathe. Ha! The ambulance got there and I got to ride up front...and let me tell you, I was convinced we were gonna die. I have never been so scared in my life (have since). We got to the hospital (same one Drew was at). They rush his dad back and I am forced to sit in the waiting room. Ha - what a story.
3) How are you in a medical emergency? Panicked? Calm?
I think a lot of time it depends - 9 times our of 10 I am panicked.
4) Do you have a garden? Flowers or veggies?
No, I live in an apt so I don't really have a space for one. And last year I tried to plant flowers and I had some tomato plants, but my neighbors' daughter decided to trample my flowers and pick all my tomatoes off my plant...
5) When did you move out of your parents house?
When I got married at 23. (so in 2005)
Your turn, head over to
My Little Life
for the rules and to link up!