I mean, how can I not make my AF all about the Royal Wedding. I debated and debated about whether I would get up, if I cared to watch it, ect...but let me say this...
I AM SO GLAD I DID IT! It was so worth it and it was beautiful and my most favorite part was when Prince William saw Princess Catherine and said "You look beautiful." I mean, obviously I didn't hear it, but it was definitely what he said to her at one point.
So my question....
Did you watch the wedding? Your thoughts?
Wanna join in? Head over to
An Island Life
! You can find rules and the link up there!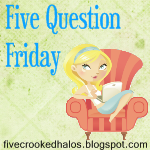 1) If you could by any car, money not an option, what would it be?
Forget a car, I want that carriage that Prince William and Princess Catherine road in! Who's with me?
2) What was your first worst date ever?
Um, I really don't know...I don't remember first dates ever being bad really.
3) How old were you when you fell in love for the first time?
I think I was like in K or 1st grade.
4) When was the last time you reconciled your checkbook?
Years ago, we rarely rarely write checks, we do most all payments online or with cash.
5) If you were going to fashion a "wanted" ad for your best friend, how would you word it.
Like for a significant other? My best friend is married. So I wouldn't.
Your turn, head over to
My Little Life
for the rules and to link up!