With Memorial Day the unofficial start of summer, my question is:
What is one thing you are most looking forward to this summer?
My answer: Going to Boston next week with my mom, dad and brother to see my sister!
Your turn: To join in Aloha Friday, head over to
An Island Life
for the rules and to link up!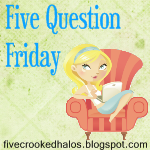 1) Do you apologize to your kids?
I do. It's important for me that Parker understands the importance of apologizing and forgiveness.
2) What color are your nails right now?
I don't paint my nails...so they are nude!
3) When you were growing up, how difficult was it for you to stay home from school sick?
Well, it wasn't that hard. Let's just say that if my parents knew how many times I faked, well, yah!
4) When was the last time you bought a comforter for your bed?
Goodness, like 3 months ago?
5) Favorite Website(s)?
Facebook
Twitter
youtube
hulu.com
pandora
New dress a day
Your turn, to join in the 5 question friday fun, head over to
My Little life
for the rules and to link up!