Another friday, another meme day! Again I will be doing Aloha Friday courtesy of
An Island Life
and 5 Question Friday courtesy of
My Little Life
.
The Rules:
Welcome to this week's edition of Aloha Friday. In Hawaii, Aloha Friday is the day that we take it easy and look forward to the weekend. So I thought that on Fridays I would take it easy on posting, too.
Therefore, I'll ask a simple question for you to answer. Nothing that requires a lengthy response. If you'd like to participate, just post your own question on your blog and leave your link below. Don't forget to visit the other participants! It's a great way to make new bloggy friends!
My question/statement is . .
What fall fashion is catching your eye?
I am loving boots and sweaters or shrugs. I love easy coverups that can take an outfit from blah to wow!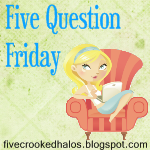 1.
If you could speak with a different accent, what would it be (i.e Australian, Scottish)?
Oh, I like this one! I would pick Australian, I love that accent!
2. Can you fall asleep anywhere? (i.e floor, couch, deck)
No, I can't. I can sleep on a couch, bed, chair (if needed) and a car or airplane....I know that seems like alot...but considering all the options it's really not!
3.
Do you use public restrooms? If so, do you sit on the toilet?
Yes, if I gotta go, I gotta go! And yes I sit....but if I have to, I will go through every stall till I find the cleanest.
4.
If you were stuck in an elevator for 24 hours, what celebrity would you most want to be stuck with?
Ok so part of me wants to say Lindsey Lohan so I could slap some sense into her....but most of me would day Johnny Depp since he is in fact my celeb. crush!
5.
Where did you & your significant other go on your 1st date?
Ok so this one has a back story. We met online and began dating without ever meeting in person (we talked on the phone nightly!) Anyways, we finally got to meet over our winter breaks from college. I drove about 3 hours to a place called Maumee, OH. We met in a parking lot (don't remember what store!) Then we went to Fazoli's and went and saw Mona Lisa Smile and hung out at a park. It was an awesome first date!
Ok friends, now it's your turn, head on over to each of these blogs and join in the fun! :)