Another Friday, Another round of Meme's! Please feel free to join in the fun!
"Welcome to this week's edition of Aloha Friday. In Hawaii, Aloha Friday is the day that we take it easy and look forward to the weekend. So I thought that on Fridays I would take it easy on posting, too."
I really really love my slow cooker, if it were self cleaning I would totally use it every day! So my question to you is:
What do you like to cook in your slow cooker???
Your turn, write your own question, then head over to An Island Life and link up!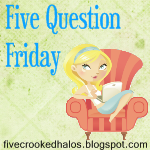 "Rules for 5
QF
: Easy as pie!! For real...easiest blog hop around! Just copy and paste the following questions to your blog post, answer them, then
c'mon
back tomorrow am (bright and early) for the
linky
and link your post up! If you don't have a blog (or already wrote a post), but still wanna join in...just leave your answers in the comments below!"
1.
What do you listen to while driving?
I really really love Pandora and I listen to that with my iphone most of the time.
2.
What is your least favorite thing about Fall?
Probably the shorter days, I feel like I can never get enough done!
3.
What does your dream house look like, inside and out?
I really really like Victorian houses. I don't want it too big, but I definitely want two stories. I want a big porch, preferably wrap around, but just a long as it's pretty big I will be happy! Nice big yard, lots of room for my son, animal, a play set, garden, place for grilling. Lots of trees, especially willow and lilac! Inside I want there to be 4 bedrooms - 1 master with a really nice attached bathroom, which has a separate shower and spa tub, another for Parker, another for a future other baby, a guest bedroom. Also would like a formal dining room and an eat in kitchen, a nice big kitchen thats updated. I would like a den for an office a family room and a small sitting room. Central vacuuming system, basement (though that could be the family room!) Laundry on the same floor as bedroom. Kinda like below, but probably smaller!
4.
Would you ever own a minivan?
Oh yes, once we have more kids I would get one, I want a Kia Sedona!
5.
Do you wash new clothes before wearing them?
Sometimes! Depends on if I need them right away or not :)
Your turn, answer the questions and head over to My Little Life and link up!
Ok so one more meme for today - never have done it but it looked fun! Friday Fill Ins!
1. My favorite month is December because I really really like Christmas!.

2. Don't go in my son's room because you won't get a fresh breeze.

3. I love to sniff yummy smelling candles - yankee is my weakness!

4. Cosi oatmeal is what I like to have as a treat for breakfast.

5. The hobby I enjoy most is photography, I simply love it!

6. The other day I forgot a diaper and my first thought was, oh my!

7. And as for the weekend, tonight I'm looking forward to hanging out with hubby and watching a movie, tomorrow my plans include resting, lunch with hubby and Kristi at work, being lazy and Sunday, I want to
get out and take some pictures of the beautiful fall foliage!