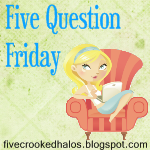 1. Who is the better cook, you or your spouse?
I would have to say me for sure. Drew isn't bad, but I am the primary cook and I am up for trying different things and methods. I do love his spaghetti though :)
2. How often do you talk to your mom?
We text weekly and I try to call her weekly, but no less than every other week. Our relationship has blossomed a lot in the past almost 6 months...we would go months with out talking, but now, we talk a lot...losing her husband (my step father) made both of us realize how precious life is...
3. Are you adventurous in the kitchen or stick to the recipe?
Yes, typically if it's the first few times I have cooked it, then I stick to the recipe, but there are certain ones that I have used for years that I tweak, plus I am learning to try it out by myself...for example, I want hamburger, but something special...I made a yummy hamburger mac - no recipe...
4. Is your second toe longer than your big toe?
Yes I just took my sock off and looked, and no it's not it is actually the same length.
5. Do you dress up for Halloween? (Bonus question: What will you be this year?)
I totally would if I had a reason too like a party or something...but I normally don't. Parker does though....I do it vicariously through him.
You can answer these questions for yourself and link up at

My Little Life

.
I have been thinking a lot about my future recently. Partially because within a year my family and I could be going through some huge changes. (Nothing bad - or at least I hope not....not on our end...its positive on our end!) Seems that God may be preparing us for some major changes and it's scary, but exciting. So that got me thinking and alas, I came up with this question:
5 years from now, where would you like to be? What would look different, the same?
In 5 years I'd like to see us in our own place. I am so over living in an apartment and around people that don't get that they live in an apartment and care about others. But besides that, I am just ready for more space and just feeling settled. Besides that, I would love to have another child and a stronger marriage. I would like to have Parker in school and doing well and I would like to be down and maintaining the 70+ lbs. weight loss I am working on. I'd like to be looking at finishing me degree and hopefully up another step on my way to the job I ultimately want. I'd like to be a mini-van driver, I'd like to see our debt really starting to clean up.
Head of to

An Island Life

for me Aloha Friday questions...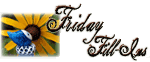 1. One of my strongest beliefs is
that we all deserve to be loved in spite of our differences. There is far too much hatred and judgement and not enough acceptance and love.
2.
Semi trucks are
huge!
3. The sky is cloudy with a threat of rain and wind and cold, so
I am happy to stay inside and just cuddle under a blanket
.

4. Music is comforting to me.

5. I always thought I'd be the girl that continued to get into awful relationships. But God gave me Drew and for that I am thankful.

6. I was noticing how bright it was and then I went outside to look at the full moon.

7. And as for the weekend, tonight I'm looking forward to watching House with my husband, tomorrow my plans include getting Parker his flu shot and grocery shopping, Saturday will be mostly just relaxing and Sunday, I want to spend time with my boys after church!
Head over to Friday Fill In for all the fun!