Happy Friday all, is it just me or did this week go ridiculously fast? I can't believe it's friday already, I swear just yesterday was monday...right? Or not...considering that's not how the calendar goes. Below are my meme's for this week, enjoy, jump in and I will give you places to link up!
I am not gonna lie, this week, I just don't feel original enough to come up with a question. But after a while thinking about it, I decided I would ask this...
Are you voting on Tuesday? Why or why not?
Honestly, I normally only vote on the "president" years as I like to refer to them. Mostly because, and this is being brutally honest - I don't follow politics, I don't like politics and I don't care about any of it....HOWEVER, this year I am voting on a non president year - and this is why. Because where I live there are levy's trying to cut a lot of library stuff out to save $$. Now I love our local libraries and I am all about saving them and making them stronger. Parker loves to go and play in the kid area and we go to story time every Wednesday...it's important to us. That is the one reason (yah yah - don't get on me for that being the one reason) that I am voting this year.
Your turn, head on over to It's
An Island Life
for the rules and to join in!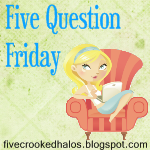 1.
If you could be a fly on any wall, which would you choose? The President's....oh the things I think you'd hear.
2.
Do you budget your Christmas shopping or just get it done without budgeting? I don't do a shopping list anymore...in fact, each year we only get gifts for my parents and Drew's parents and its the same thing for both.
3. W
hat is the craziest fad diet you have ever done? The only diet I have done is Weight Watchers...and I love it.
4.
Is there a TV show that you have seen every episode/season of? There are a few, Gilmore Girls, Grey's Anatomy, Without a Trace, Full House
5.
What one song always pulls at your heart? Several do, but the one that I won't listen to is Time of your Life and I can Only Imagine.
Head on over to My Little Life for the rules and to link up.
1. While the cat's away
I am so sad, I miss my cat! Darn allergies!
2.
Orzo pasta is my new favorite it's
fabuloso!
3. Children
desperately need to be taught tolerance, there is far too much hatred and insensitivity in the world. God made us all special, accept that.
4.
I have to breath and have me time
when I get home from work or shopping or what have you.
5. This may seem odd, but
I think my feet are so cute and I love my son's feet in socks, they are so cute and plump...but in general I hate feet.
6.
I wish this weekend I could go have me time,
that seems like a fine idea to me!
7. And as for the weekend, tonight I'm looking forward to
the Harvest Celebration at a local church
tomorrow my plans include
choir practice way to early in the am
and Sunday, I want to
go to boo at the zoo! Love boo at the zoo, so sad that Fluffy won't be there to say hi to.
Head over to Friday Fill In's to add your name on the list!