Hello Friends,
I hope you all had a wonderful Thanksgiving. I am writing this on Thursday night, I am exhausted but so thankful for time with my mom and my brother Phil. I rarely see him, he lives and works in Philly and doesn't travel a lot, except to come see us and he will do out and back the same day (8 hours one way - 16 total!) But he adores his nephew and visa versa!
Anywho, on to the meme's for today.
I am going to keep my question short and simple:
Do you do black friday shopping?
My answer is no, I have no reason to. I am not looking for any deals for toys or anything. Plus, I don't like crowds or shopping around them. I'd rather stay home, sleep in and decorate!
Your turn, ask you own question and then head to
An Island Life
to link up!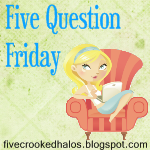 1. What is your favorite part of a Thanksgiving meal?
Oh my gosh, all of it...seriously, I love turkey, stuffing, mashed potatoes, cranberry sauce...yum!
2. Are you a host or a guest for Thanksgiving this year?
I was the host this year, it was simple - hubby, Parker, me, my mom and my bro. I made turkey breast rather than a whole turkey and it came out really good and moist!
3. When you think of one Thanksgiving tradition, what comes to mind?
Watching the Macy's parade and taking a nap!
4. You have two pieces of pie in front of you and you HAVE to eat one...do you choose pumpkin or pecan?
I absolutely DETEST pecan so I am all over the pumpkin...
5. Are you a Black Friday Shopper?
Nope! I hate it. I'd rather stay home and decorate and sleep in.
Your turn, answer these questions on your blog and head over to My Little Life and link up!

1. Three things I must have on my Thanksgiving table: Turkey, Stuffing, Cranberry Sauce (the kind from the can!

2. After eating turkey you can normally find me sacked out on the couch.

3. This is friday!

4. Today I am going to decorate the house for Christmas!

5. Oh, man, thankfully it's Friday! I am worn out from this week!

6. I am still trying to perfect the art of turkey cooking - but I am getting there!

7. And as for the weekend, tonight I'm looking forward to putting up the tree, tomorrow my plans include nothing really and Sunday, I want to sleep some!