Happy Friday friends! I am so glad it's a new day - yesterday was AWFUL...I was sick...I was convinced that might head might explode or implode or some kind of 'plode. This sinus junk I have was about to kill me, especially considering it was on top of an awful tummy bug, but thankfully I got to mostly rest and when hubby got home from work he brought me some food and we watched House and then he made me go to bed at 9 - so thankful!
So today I am all energetic and ready to do my meme's! Enjoy!
This week I know exactly what I want to ask. It's a question I had to answer for the staff page for my church and I thought, hey, what a great Aloha Friday question...
If today were you last day on earth how would you spend it (other than with family)?
My answer: I'd pig out on
Chipotle
, I'd go to the Zoo and snuggle an elephant, I'd go play a round of min golf, I'd finally find a way to meet Johnny Depp, I'd take all my possessions and give them to the homeless shelter....
Your turn, ask your own question then head over to
An Island Life
and link up!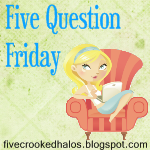 1. What is the most physically painful thing that has ever happened to you?
The birth of my son before/after! I had him at 29 weeks, the reason being that my body was shutting down for some reason. It hurt, I was sick for about a week prior to having him. The night before my entire right side was aching...to the point of tears. I got to the hospital and the pain increased. Then following his c-section. I was in the ICU (though that wasn't that painful thanks to meds!) but it took my body a while to heal...having to move after having a very emergent c-section and having staples and drainage balloons, I wouldn't wish the pain I felt on anyone.
2. How much sleep do you get at night?
I head to bed about 11pm and sleep till 8am - 9 hours?
3. How long did you believe in Santa Claus? How did you find out that he does not exist?
Wait, you mean to tell me that there is no Santa...I am crushed! Kidding, kidding! I don't remember really, but part of me still likes to be a kid and believe...it's magic!
4. What was the last movie you saw in a theatre?
Oh my word, I don't even know. We don't go to the movies much anymore because of the price. I seriously have no clue...
5. What do you wear to bed?
PJ's...which normally consists of pj bottoms and ratty tshirts...
Your turn! Answer these questions on your blog and then head over to
My Little Life
and link up!
1. When pigs fly
is when I will jump our of an airplane!
2.
Dude,
seriously?!
3. Call me if you ever want to go shoe shopping!!!!
4.
Holla
if you know what I mean.
5. The most entertaining person in my life is
my son
because he's 2 and does the most ridiculously cute outrageous things!
6.
Demi Lovato in a treatment center,
who's next?
7. And as for the weekend, tonight I'm looking forward to
the Swiss steak I am making in the crockpot as well as time with hubby
, tomorrow my plans include
grocery shopping and being lazy
and Sunday, I want to
rest, but I have work (I work for my church) and then a meeting, but hopefully that afternoon I can have down time
!
Your Turn! Head over to Friday Fill In's for all the fun