Happy Friday Friends!
I hope that you all have recovered from your Thanksgiving holiday and that you are enjoying this last month of 2010. It's hard to believe it's already December... I feel like just yesterday it was summer! My December is overflowing with busyness - from prepping for our upcoming church Christmas program to working on the schedule for the next quarter of work (I work for my church..currently I am putting together the schedule for Jan - April 2011), to prepping for family getting in town, I feel like I am going non-stop. So here is my question for you today:
What do you like to do to relax when you have a bit of free time?
I like to sit in a hot bath and listen to music, or honestly, just nap.
Your turn! Ask a question on your blog then head over to
An Island Life
to link up!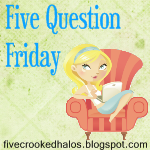 1. What's on the top of your holiday wish list and why?!
Oh man, I have a big wish list! I think though it would either be boots or a Miche Bag, or a new cell phone cover...or all three :)
2. What is your favorite Christmas gift from the past?
I am not sure to be honest. I think probably my willow tree figurines I have received. I adore them...
3. If you had life to do over, what would you be when you grow up?
I think I wouldn't change much...I would still be a mom and a wife and working where I am now, I just would have my college degree...I feel like a failure because I haven't finished college yet.
4. When do you put up your tree?
The day after thanksgiving is when ours goes up and it comes down New Years Day.
5. What is your favorite Holiday?
Christmas! LOVE LOVE LOVE this time of year!
Your turn, answer these 5 questions and head over to My Little Life and link up!