Hi friends! As promised, I am doing meme friday this week, even though I took the week off blogging to prep for this weekend and my church's Christmas program. That starts tonight...Encounter! 4 performances in 3 days...oooo boy! It's been a good week off...I've needed the time to prep and rest and just be. But this morning my mother in law is in town and on Parker duty, so I am back in the bedroom resting and blogging! (Ah the life!) Enjoy! Oh and this is kind of a long one today because I have some pictures....
So I am really in the Christmas spirit. I wish I could buy massive amounts of decor and just turn my house into a Christmas decor wonderland....however, I live in a 2 bedroom apartment...sooo, that might be a bit much. But I do have a couple of favorite decor items I would love to show you, first, my four homemade ornaments, next a wooden "nativity" my mom got me this year and finally, my other nativity scene...I got it as a wedding gift!
So my question for you is...
Do you have a favorite ornament or decoration in your home? What is it and why do you like it so much?!
Your turn, ask your own question and head over to
An Island Life
and link up!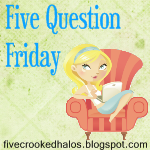 1. Do you
regift
...and if so, do you have a
regifting
horror story?
I do not, or at least I try not to. I don't know that I have a horror story!
2. Do you know what you are getting for Christmas this year?
Nope, I know what I want for Christmas this year...well ok, no, I do know we are getting a TV, but that's because we've been saving up and are getting help from my husband's parents...but as for personal gifts for me, I have no clue!
3. Who brings the most gifts in your family, you or Santa?
4.
What store do you love to by jeans from?
Kohl's, I love Kohls!
5. Christmas meal: Big, All Out Meal or Snacks and Apps?
We typically do Ham and then some sides....and then eat it as leftovers for the next few days.
Your turn, answer these 5 questions then head over to My Little Life and link up!
1. What in the world did I do to get so lucky to have a wonderful son?

2. I like to be well fed.

3. Go Colts!

4. My friends sent me christmas cards and I love it!

5. I keep having blonde moments recently...well my whole life really, but yah.

6. Do you like snow or not.

7. And as for the weekend, tonight I'm looking forward to Encounter!, tomorrow my plans include Christmas with my dad and stepmom and singing and Sunday, I want to sleep but I have two performances of Encounter! Woo!
Your turn, do these fill ins and then head to Friday Fill In and leave a comment with your link!