Happy Friday! We've made it almost through the first week of Jan. 2011, how exciting. Back to my normal blogging routine - and I am enjoying it. I needed the break after a busy December - it feels good to be back though.
I have a confession - I am not a huge breakfast person - I'd be happy to go without it most days. Not sure why or where this comes from, but it may be do to how picky I am when it comes to how eggs, waffles, pancakes, ect are made. Not many people can cook eggs the way I like them and to be honest, I don't really like the taste of eggs, so 100% of the time, you will find my eggs or egg sandwich covered with Ketchup. Mmmmm. Or, in burrito form, so I have cheese - which brings me to another thing, I don't love eggs with cheese on them most of the time - only in burrito form. Then there's my waffle/pancake issue. But that's long story.
So this leads me to this weeks questions:
What kind of breakfast food do you like?
To join in the fun head over to
An Island Life
for all the details and to link up!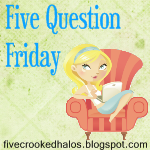 1) What is your current favorite book, and why?
I suppose it would be the one I am reading right now: "Your Secret Name."
2) Do you go to the dentist regularly?
Well now if I tell you this you won't be my friend anymore....I do not, but it doesn't mean I don't keep up with good oral hygiene, I just hate dentists.
3) What is your worst memory from high school?
Um, both of my proms. I got dumped right before my Jr. prom and ended up going as a third wheel - with my friend and her date (my cousin). Yah, you heard me...they were dating...invited me to go - spent most of the night sitting at the table bored! And then my senior prom...I had a boyfriend, whom most of my friends thought was well a loser, I of course didn't see it...but lets just say he made that night miserable for me.
4) What do you hope to be remembered for in your life?
For being a caring, encouraging friend, devoted wife, teachers, wonderful mom.
5) Are you superstitious or do you have any superstitions?
Not really
Your turn, head over to
My Little Life
for all the details and to link up!
Have a good weekend.