Oh. My. Word. I am tired today. It's cold outside, snowy and I just want to stay under this blanket and do absolutely nothing! I suppose the good thing is that the sun is shining, even if it is bitter cold and there is 4 or 5 inches of snow on the ground.
I have grown up in the midwest my entire life, so I am used to snow and cold and all that - but I hate it. I really hate being cold and sure, snow is pretty and all, but its just not my cup of tea. So in order to stay warm, I have been thinking about where I would want to go visit during the winter months here. I'd love to go to Greece - I think that would be fun!
So my question to you: What country/place would you like to visit some day?
Your turn - head over to
An Island Life
for rules and to link up!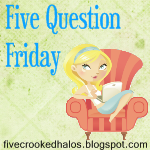 And now on to my 5 question friday's answers!
1) Where did you and your spouse meet? Did you instantly know it was love?
My hubby and I met online in 2003. Neither of us were really looking for love or anything. Actually I was doing a paper and was researching some stuff. I was in a Christian College students forum and asked for some help - he replied to my post. We IM'd and I got my answers and help and went on my merry way. I didn't really like him much at all...hadn't planned to talk to him again, until like a little over a month later when he IM'd me one night and I had had a bad day so we talked...after that we talked ALL the time through IM and on the phone. Within 4 months of our initial talking we were dating, 9 months later we were engaged, 11 months after that we were married and we are 5.5 years into our marriage.
2) What is your favorite room in your house?
Hmmm, good question - I suppose it would be my bedroom - because my bed is in there and it's my retreat!
3) Can you wiggle your ears?
Nope, I have no really body talents, can't roll my tongue, can't wiggle my ears, not double jointed....
4) What is your evening ritual?
We eat dinner around 5:30 - 6, my husband is home by 7, Parker down by 8, then tv, or hang out time with hubby, bed by 11. Pretty unexciting!
5) How many hours of sleep do you need to function?
Oh boy - as many as possible...I typically am asleep by midnight and up at 7 - that seems to do!
Your turn. Head over to
My Little Life
for the rules and to link up!