Menu plan to come - I just haven't sat down and written it out and I feel like I eat the same things every week, so I am attempting to try to do different things....which is proving frustrating...
1. What is your favorite kind of fudge?
I don't really do a lot of fudge...but the occasional peanut butter fudge is nice.
2. Is there snow outside your window?
Sigh - Yes :( I am just not a snow person.
3. What is your favorite meal of the day?
Oh man - I would say dinner I suppose.
4. Do you text on your cell phone?
Oh yes - a lot!
5. Waffles or pancakes?
Waffles - with syrup in each little "hole" :)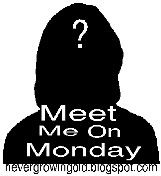 Until next week :)