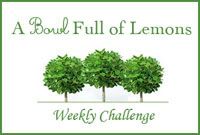 So on Sunday, I joined in with a bunch of other bloggers to start taking part in a weekly cleaning/organizing challenge hosted by A Bowl Full of Lemons! I am so excited to be joining in and wasn't sure how I would do. To be honest, I am great at telling myself I want to do things and then not doing them. But I am sticking with it...
This weeks challenge: A Home Management Binder!
First, I took it upon myself to figure out what on earth I wanted to put in this puppy. I'd like to think I am this well organized machine, but the truth is, I am not! So I pulled out a pad of paper and began writing down what I wanted to do with this...
I basically needed to come up with the idea of - ok, what sections do I include. I chose:
Emergency Information
Week at a Glance
2011 Calendar
Schedule
To-Do List
Cleaning/Organizing
Menu Planning
Medical Information
( I am sure I will add more later on, but this will do.)
An overview of what it looks like in my binder!
When you open up my binder you will first see my organizer, you will then see a page with a verse on it, followed by the Emergency Information page and my week at a glance page.
***Disclaimer, I haven't filled a lot of this out yet...just pulling it together....***
So under my calendar section I found a website (all links for printed pages linked at end of post!) that has a yearly calendar and printed out all 12 pages. I started with Feb. seeing as how it's Feb. and have is almost all filled out through Dec.
I am quite obsessed with calendars...I have 4 actually. I have this one you see above, I have a magnetic one on my fridge, a wall calendar and then of course my handy dandy iphone ical...I figure I can't forget things if it's written down 4 times, right?
Moving along, you will come to my schedules section - now I have a 2 year old so we don't have a lot of specific schedules - but I do have a couple of things in this section for now.
1) A Praying for your Child Calendar - I got it at a church event. Each day of the month there is a specific area of prayer/prayer/verse to pray for your child. For example today is the 4th: so it would be integrity and the prayer is...Lord, may integrity and uprightness protect my children because their hope is in you....Psalm 25:21
2) Library Schedule - Parker and I do story time at the library a lot so I have a schedule of our favorite local branch's story times.
Next you will come to my To-Do section...I have two pages I liked so I am going to use both. First this page:
I specifically like at the top where it says: Today I shall dream to: makes it a lot less stressful on me! if I dream it...ya know!
And this page:
Here's why I love love love this one...the weekly chores section - and the water/exercise part. I literally have days that I need reminded to get up and shower and get dressed. If I have it on a check list I am more likely to do it!
So next comes Cleaning and Organizing - I combined both because I feel they play hand and hand.
Next Menu Planning! I do this all the time and I love the list I found to use in my binder - it looks like this:
Finally (for now) my medical information section. We have quite a medical history and allergy list so I found a basic medical info form that has our insurance info and such on it:
And then I typed up a sheet with a lot of different info on it. That way if we were ever not here and a sitter has parker and needed to answer questions they could.
So there you have it...I plan to finish filling things out some today! I am excited that I was able to get this done and I am sure someday there will be more sections.
Here are links to pages:
To Do Lists
Cleaning List, Daily Docket list, Menu Planning
Calendar, Medical Info, Emergency Info
Hope you enjoyed the post, sorry for the picture quality, used my phone!
Did you do one, let me know in a comment and I will stop by!