Menu Plan Feb. 7 - 13 2011 (scroll down for meet me on mondays)
Monday:
Ham, Green Beans and Potatoes
Tuesday: Grilled Chicken Breasts, Asparagus, Perogies
Wednesday:
Butternut Squash Skillet
, Mix Veggies
Thursday: "Picnic Night!" Hot dogs, chips,
pasta salad
Friday: Pizza Night - Homemade Sausage, Pepperoni and Mushroom
Saturday: Cottage Beef Bake, Corn
Sunday:
Sloppy Joes
, Sweet Potato Fries
I wanted to share with you my Chicken Parmesan Recipe I made last week. I made it up myself from an old recipe I used to make!
Ingredients:
4 Chicken Breasts
Water/Broth
Marinara Sauce
Pasta - any kind...I just make enough for 4 servings
Provolone Cheese
Preheat Broiler
1) In a large pot place chicken breasts and enough water or broth to make sure the chicken is covered with it. Bring pot of water with chicken to a boil. Turn down to low to just a small simmer, partially cover the pot and allow to simmer for 10 minutes. After 10 minutes is up - turn off heat completely and allow the chicken to remain in the water for another 15 minutes. (this is called poaching!)
2) Cook pasta according to package directions. Drain.
3) Place poached chicken in a small, oven safe dish. Spoon a couple tablespoons of marinara sauce over the top of each chicken breast. On top of that place a piece of provolone cheese.
4) Place dish of chicken under broiler for 3 minutes - just long enough to melt the cheese over top.
5) (This is optional) Mix some sauce in with your pasta, serve chicken over pasta!
I love this recipe, it's so easy and yummy...sorry I don't have exact measurements!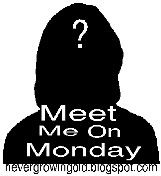 1) Did you watch the Superbowl?
I did, I didn't really care who won so it was nice to not be stressed out about the game....plus I really wanted to see commercials...they are always my fav!
And here is my fav. commercial if you were wondering?!
2) What is the last book you read?
I am actually doing it as a read along with my friend
Marla Taviano
! It's a great book, I highly recommend it!
3) What is your favorite kind of cake?
Why yes, that is a cookie cake. I love cookie cakes - I am not a huge fan of cakes actually...in fact at my wedding I really would have rather had pie! Anyways, most of the time, if I have a cake for my birthday I ask for a cookie cake - (or a ice cream cake). In fact at my baby shower (which was 3 years ago) I had a huge cookie cake!
4) Do you snore?
5) Do you play an instrument?
I played clarinet in band from 7th grade - 12th grade. After high school I stopped, and now I just sing. Although sometimes I like to play my son's xylophone....I can even play Do Re Mi on it! :)
Your turn, head over to
Never Growing Old
to link up!