I hope all of you from AF are doing well (and all of you who are not!) I wanted to point out really quick that I have renamed my blog from Musings from Mommy Land to Northern Skies...hope you like it!
On to AF!
So I didn't know this until last night, but there is a new show on Lifetime called "One Born Every Minute." It's a show about - you guessed child birthing. And it was filmed at the hospital that my son was born at 2 years ago...it's very weird to watch it and remember walking those halls, remembering the rooms, ect. I don't remember what nurses I had but it so surreal to know that a show on TV is being filmed there.
So my question to you is: Have you seen it? (if not you can watch it on Lifetime.com!)
You can join in the fun over at An Island Life - link up your AF question!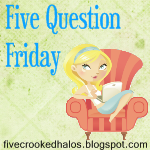 1) Would you rather be on ABC's Extreme Makeover Home Edition or TLC's What Not To Wear
Most definitely Extreme Makeover Home Edition - I live in an apartment I would LOVE to have a nicely built house...except I don't want to have to pay out the wazoo the mortgage or taxes.
2) Do you have any tattoos?
Nope - I don't do needles unless I need a shot and even then I close my eyes!
3) Do you tell your kids about things you did growing up?
Well, I have a 2 year old - so no.
4) If the traffic light turns yellow, do you stop or speed up?
Stop - most of the time ;)
5) What is your preference: chocolate or chips?
Ummm - chocolate over chips but I don't eat either often.
Your turn, head over to My Little Life and link up!