Well hello there Sunshines!
Good Monday to you (I am saying this from the past - i.e. last night while watching the Grammy's!). I have a busy day today so I figured I'd get this pushed out Sunday night.
First my menu plan then on to meet me on Monday!
My Menu Plan for this week:
Monday: Sloppy Joes, Sweet Tater Fries, Pasta Salad
Tuesday: Pulled Pork BBQ, Mac & Cheese, Veggies,
Wednesday: Tuna Patties, A side of some sort!
Thursday: Chicken Parm, Spaghetti, Veggie
Friday: Pizza Night
Saturday: Leftovers
sunday: ?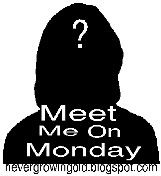 1) Did you get any Valentine's Day gifts?
Not yet - but we are going to the place pictured above today - that in and of itself is a awesome gift if you ask me!
2) What is your favorite topping on something toasted?
Yummy, yummy grape Jelly!
3) Do you pick out your outfit the night before?
Not really - I mean sometimes I kinda have an idea of what I may want to wear, but I don't usually pick it out the night before.
4) What food item do you absolutely despise?
Let's just sum it up to anything (or mostly anything) from the sea - you basically cannot convince me that seafood is anything but disgusting. (Unless it's clam chowder...)
5) Righty or lefty?
Head over to the
Meet Me on Monday
post to link up.