Happy Friday Sunshines!
I decided to make this one a little fun - Drink Choices #1
Do you like Milk?
If so, which kind do you like?
(i.e. skim, 1%, 2% ect)
Me, I LOVE milk and I do skim or 1%! When I was pregnant with Parker I drank a ton of 2% but now I can't WAY to thick...blechk.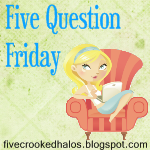 1) Can you drive stick shift?
No, in fact, the thought of it terrifies me. Why? I have a hard enough time driving automatic...haha! Stick shift is WAY to complicated!
2) What are two foods you just cannot eat?
Pretty much any fish. Oh fish - gag! I like salmon, tuna and tilapia...that's it, even with those, they have to be in a sauce or something where I can barely taste the fishiness of them. Gag, gag, gag.
And along lost lines: crabs, lobsters, most seafood. I shutter at the thought.
3) Do you buy girl scout cookies? What is your favorite kind?
Oh yes, I do! I used to be a girl scout (was for about 11 yrs.) Anyways, I am a huge thin mints fan and carmel delights (I REFUSE to call the samoa's.) I can't wait to get mine!
4) How do you pamper yourself?
I don't. The most I really do is just take a hot bath once in a great while. I don't even know what I would do to pamper myself if I was forced to!
5) What is your nickname and how did you get it?
I have a few actually. It depends on who you are and how long you've known me - depending on that, you may call me several names.
1. Dee - this is my oldest one. Basically if we were friends pre- Drew then you called me Dee as a nick name. I got it in middle school and have had it ever since.
2. Deni - this is my more "recent" name. I got this from Drew when we started dating. I really like it more than Dee so those of my new friends (basically since 2003) or any old ones who want to call me this.
3. Homefry - Ah, this one brings back memories. I got this in college. It's kind of a long story, but my friend H. calls me this - we are each other's homefry. Haha.
4) MOB - another college nickname. My other friend H. calls me this. She is my MOB and yes it has in inside joke with it and no I will not share!
5) Salsa - yet another college nickname. My friend G. calls me this. And again she is my salsa, too. Hehe. Another inside joke I don't wish to share with this one.
6) 'Neice - this one I actually only let 3 people use. I don't particularly like it, but if you are one of those 3 people, then yes you make call me this.
7) 'Neicer - Only ONE person may call me this and that's it...Period.
8) Da-Neice - my uncle Gary calls me this...and only he is allowed to!
so there you have it, my 8 nick names! Hehe...told you I had a lot!