I need to get organized, I need to set goals and meet challenges - it just has to happen. For too long I have allowed my life to be a complete disorganized mess - not so much my life more my house...my poor, poor disorganized house! BUT NOT ANYMORE.
I am participating in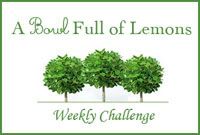 The first week was to make a
Household Management Binder
- check. Last week was all about your launch pad, or entry way as I call it. I didn't participate because our's is kind of on my list of not a big deal...it's organized enough for it being a stairwell leading up to an apartment with a coat closet at the top. Truly nothing special. This week is making a
Recipe Binder
...which I will be doing. I need one bad, I got a lot of recipes from online, as well as from books I borrow from the library that I copy recipes out of. I have a few actual cookbooks, but I also have a file folder FULL of papers with recipes that REALLY need to be organized. I am loving these challenges...its a small way to really start the process of de cluttering, cleaning and organizing my home to make it MUCH more functional. My first "big" organization project is going to be our pantry...oh my WORD is it just a hot mess. I am trying to find the right type of storage items for certain thing and calculating out all I need/want/ect.
My goal for 2011 is to get organized and make my apartment feel more like a pulled together home. It's a slow process, I'll admit, but with the above challenge I take part in as well as getting ideas off other blogs, I think this is something I can do.
On a personal note - one goal I have is to get back into exercising and eating healthy. I did great when I was on weight watchers and lost close to 25 lbs - sadly, I have gained several of those pounds back since Christmas - I just got sick of healthy eating - which is awful. And I stopped using weight watchers when the new system came out - it just wasn't for me and I was gaining...(and yes I was still strict with my diet and such). I decided to not spend the money on WW online and started using spark people, which helped a lot, but then I just petered out around Christmas. I want to change that...I need to change that, I am feeling like crud again. On top of getting back into better eating habits, I want to start working out. My husband and I intend to use some of our tax return on a YMCA membership. I can' wait to start.
Other goals - hang out with friends more, read more, watch tv less, blog more consistently, enjoy time off, take vacations, better mothering!
Here to a life changing and organizing 2011!