Good Morning Sunshines!
I hope you are all doing well today. Before I get into my question, please take a moment with me to pray for all those affected by the earthquake and tsunami in Japan - that's scary stuff. Pray also for the safety of those in Hawaii and California.
Moving on....
I am going out of town in a few hours to visit my family so I am making this a short one today...
Do you need glasses? Do you wear them or contacts more?
For me, I wear glasses, I just don't like contacts - it's not fun for me to have to put them in and take them out, so I choose to just wear my glasses.
Your turn, head over to
An Island Life
for the rules and to link up!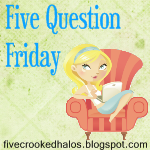 1) Do you know what your real hair color is?
I do, I have blonde hair...
2) Do you plan ahead for your summer, or fly by the seat of your pants?
We have to plan ahead because of my husband's work schedule, so we always plan for out our trips...
3) What is your favorite meal to cook?
Pasta - mostly because I adore pasta. Specifically, I love the chicken parmesan recipe, because it's easy!
4) Do you get offended by not receiving thank yous?
Nope...I am not good at sending them out myself, so for me it's always a pleasant surprise to get one...hopefully that doesn't make me sound awful.
5) How did you meet your best friend?
She moved to the area in third grade and we met at recess. It's really funny though because we weren't friends at first, she actually wanted to be my friend, but didn't want me to be friends with anyone else. I had a friend (M) that I had grown up with and had been friends for for a long time (well ever since K which was a long time if you ask me). She actually made me and M get into a huge fight so that she could be my friend...super long story short, we all became friends and J and I have been friend's since! That's a long time!
Your turn, head over to
My Little LIf
e for the rules and to link up!