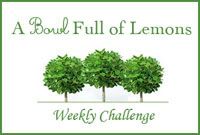 Hello there Sunshines! So I have been *sort of* participating in the above challenge at A Bowl of Lemons since it started. I say *sort of* because I haven't done super well at follow through :( I did the first week challenge of a Household Management Binder, I started to do the Recipe Binder (which right now is a VERY slow work in progress...) and this week I am participating in the Kitchen Organization challenge. This has been the thorn in my side for a while now - my kitchen. See I live in an apartment...and I have a small kitchen....
And I am not great at organizing my kitchen...I get started, then it just gets all discombobulated after one night of making a hot dog. Ok, so maybe I am over exaggerating a bit...but the truth is, I find it difficult to organize right now...for what ever reason. But I have started and I would love to share with you what I have done so far! ( I will not be showing inside cabinets - except 1 and I will not be showing my pantry - oh the horror that is my pantry right now (it's a slow slow slow work in progress...)).
Let's start with when you first walk in - you will see my fridge. It has a wipe off calendar on it...(I have two calendars in my kitchen!) and some important pictures, my collection of magnets. I have to get a new one wherever we go (if I remember!) I didn't get a picture of the other side, but it's where I have my menu plan sheet, a holder of pens, other important papers on it.
Like I said I have 2 calendars. The wipe off one and then the one on the wall. I seriously need them as I am lousy at remembering things. I figure if I can have it written on 2 calendars in my kitchen, plus on my computer, plus my iphone, I may not forget stuff! P.S. Both calendars are from Target - me and Target are kind of BFF's!
Alright...now my stove. I keep my most used spices in a cute little green basket I found a while ago at dollar tree (p.s. another bff!). I also keep my EVOO (extra virgin olive oil), PAM, salt and pepper and a timer on it as well. It's just easy because that's really the stuff I use most. Above my oven is that little cupboard that a lot of people have. I use it to store my baking stuff, but also to store my other spices. I have a small kitchen and not a huge pantry and I have been wanting to find a way to store my spices since I hated my spice rack and got rid of it. So I went online and searched and searched and found these wall clips that are sticky on the back and bought some. It works wonderful! And it's really pretty easy access.
Now we come to my "microwave station" if you will. You will see our toaster, our microwave and my cutting boards. This area is probably my favorite for original thought in organizing! I rarely make rolls or whatever, but I had a bread warming holder - so I used it to put my bread in on top of the microwave. And then we have the cutting board area. I found this little spiral dude at Goodwill for .99 cents and it works perfectly to organize my cutting boards, and I can put our microwave bacon cooker/plate thing back there too and save some space.
As we continue our tour we come to the back wall portion of this exciting organizing time! I bought these cork squares a while back and now I just pin things up. I have my "Wise words for mom " booklet. Pictures of our church's missionary, numbers for some pizza places, the posion control number and a letter from Drew's mom that she posted in our bedroom after we got married. We saw it when we got home from our honeymoon and I just love it.
Then we have the coffee area (my husband's little happy place!) I won't show you the entire place because it too is a work in progress, but I wanted to show you our cup holders...we love them. And they hold Drew's 3 favorite coffee cups!
Then the drawers - 2 of the 3 of them. First my gadget drawer...I went to Target and picked up organizing bins for it. It works perfectly and it's definitely easier to deal with then what it used to be!
And our silverware drawer. We have our holder of silverware, and then a couple more of the green baskets...one holds all of PArker's small silverware (which he like never uses :( now that he's a big boy) and one holds our steak knives. Then I have some baggies that hold our chip clips.
And thus ends what I have completed so far. I can't wait until I can show off my pantry and other cupboards...
You can join in the fun at
a Bowl full of Lemons
! I love the challenges that Toni has given so far. I hope to have my recipe binder more done by the end of the week so I can finally show it off! Let me just say I love 3M command hooks for use in my kitchen, I use them to hold my pot holders, to hold things in my pantry..heck, they are all over my house!
Thanks for stopping by!