So I am really really excited. Let me tell you why. My amazing husband decided to use part of our tax return to treat my cousin and me with tickets to a concert this summer. I am so pumped! We are going to see (and don't laugh!)
and
To say that I am super excited is an understatement. I grew up with these two groups and I was convinced that I would marry into one of them someday! I am so excited to have one night where I can feel young and enjoy some happy times from childhood again. And I get to go with my cousin, which is awesome because she and are super close. And this will be the first concert that is a big tour that I have been to ever. I have been to smaller concerts in my home town and such, but nothing like this...I am so excited!
So my question for you today is:
If you could go see anyone in concert who would it be?
I am interested to hear everyone's answers.
You can join in the Aloha fun by heading over to
An Island Life
for the rules and to link up!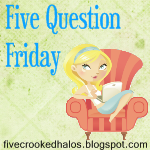 1) Have you ever forgotten your child in a store or at school?
Nope, but I have lost him plenty! If I let him out of the cart at a store I will most likely lose him at some point. He's little and can fit in randomly weird places. Needless to say, he doesn't get out of the cart much.
2) Where did you go on your VERY first date. (Like first first, not the one with you spouse).
Probably to a movie, but I certainly don't remember. I don't even remember my first kiss...
3) What is your "silly" fear. (We're not talking water or heights)
Feet - I absolutely can't stand feet. That is definitely my silly fear...if it counts...if not, I don't know.
4) Confrontation: do you cause it, deal with it as it comes, or run far far away?
You know, this is part of what I have been working on in my counseling. I have such a negative view of confrontation, but I am learning it doesn't all have to be horrible. I definitely used to just run far far away from it. I had zero desire to deal with it and I am sure that I have and still do cause it. I am learning more and more to deal with it as it comes because it is inevitable. You just simply will never please everyone and some people will speak your mind. I literally, as I sit here, just had a confrontation with my mom...and I dealt with it instead of ignoring it. That is huge for me.
5) Wood floors or carpet?
Simple answer - yes! I love both, I live in an apartment with carpet and very ugly vinyl flooring (not vinyl - whatever it's called. ) I would like a house with mostly wood, but some carpet.
Feel like answering these questions? You can join in the fun but heading over to
My Little Life
for the rules and to link up!