Tis that time of the week again! Aloha Friday. And my question is this:
Is there a movie that is coming out or has come out recently that you want to see?
Well I want to see this:
I wanna see Arthur! I love Russell Brand and it looks super cute! Can't wait to find a time to go!
Your turn, head over to
An Island Life
for the rules and to link up!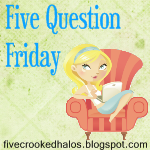 1) If you could change one thing about yourself what would it be?
The chest that God has "blessed'" me with. Oh how I wish they were smaller!
2) Write about a time you got lost?
So when we first moved to Columbus I decided one night that I was bored and that I was going to go driving. I lived in the suburb of Grove City and decided to just drive around back roads and try to see if I could learn to get around. I some how ended up near Dublin, which is a 25 minute drive- it's NW columbus basically. But I got lost and was terrified because it was dark and I had no idea where I was.
3) Camping or 5 star hotel?
5 star hotel please - I don't do tents!
4) Have you donated blood?
I can't I am anemic and I've had a transfusion so I am not allowed to.
5) Do you have a budget or do you "fly by" most months?
We have a budget for sure...we live pay check to pay check and we have to be super careful with how we spend and when we spend.
Your turn, head over to
My Little Life
for the rules and to link up!