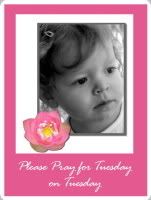 Head over to this site and say a prayer for this family. My heart is just breaking for them.
Oh and of course, today is friday so it's time for fun foods friday!
This weeks recipe meatloaf. Nothing too special, but it's really easy to make (well I think!)
Easy Meatloaf
1 tbsp evoo (extra virgin olive oil)
1/2 cup chopped onion
1 1/2 lbs ground beef
3/4 cups of oats
1/4 cup ketchup
1 tbsp worscheshire sauce
1 1/2 tsp salt
1 egg beaten
3 tbsp milk
Preheat oven to 375.
Chop onion and then sautee until tender - about 2-3 minutes.
In a medium size bowl mix meat, oats, egg, ketchup, worst. sauce salt and milk. Add in onion. Fold it all together and place in a greased loaf pan.
Cook at 375 for one hour.
When done, take out and let sit for 5 minutes.
I like to add in garlic and spices. Also, the other night instead of ketchup and wors. sauce, I did bbq sauce and it was yummy.
Enjoy!