I have zero brain power to really write a post very deep. In fact, my blog has been way too deep lately, so I am going to lighten the mood a little bit. Now no worries, Deep Deni will remain around. I mean after all I am reading Radical (and my goodness the deep thoughts coming from that!) and I am also starting another book, "For Women Only..." ok seriously, this book is kicking my butt as a woman in a relationship. I want to do a post about it, but again, my brain is not functioning enough today to do so....so you get a few Meme's to deal with today... Great news though, Menu-Plan Monday, Radical Tuesday, Getting to know me Sunday, and maybe even recipe sharing will be back starting next week. I also plan to do a "I love fall" post, but I am waiting till after I go pumpkin patch. hay riding tomorrow...
So without further rambling I present to you my two meme's for today!
1)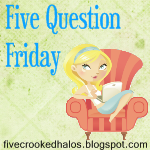 This is a lot like my sunday Meme I do..just answer some questions....so here ya go!
1. What is the first nightmare you remember?


I am not sure....I know a dream I remember. It was one where I was hanging out with friends and had to go to the bathroom. The bathroom had been closed so I remember running around to different places to find one. I come to learn that going to the bathroom on a toilet had been outlawed, so I was forced to go behind a tree. I woke up from that dream with a wet bed....haha.
2. Even if you're not a sports fan, what's your favorite sport to play/watch?


Oh but I am a sports fan! I love to watch Soccer and NFL and the Olympics! My favorite NFL team - Indianapolis Colts!
3. If you could pull off one piece of trendy fashion, what would you want it to be (jeggings, hats, thigh high boots, etc.)?


Tunic Dresses or Sweater Dresses. I am short so they tend to make me look shorter, plus with my figure right now, they don't look right. But I am working on that!
4. Did you make good grades in school?


Mostly, I graduated in the top half of my class of over 400 students. I struggled, but I never had D's or F's on my report cards.
5. What magazines do you subscribe to?


None, I don't really have the money. Though believe me, I would end up subscribing to all the gossip magazines...or Parent ones
If you want to participate in 5 Question Friday, head over to Our Little Life
2)
I actually am going to answer two questions!
First the one asked by
An Island Life
: "What's your favorite outdoor activity?" -
I love to go to the park with my son...just watching him do things I wasn't sure he'd do and enjoying time out in the fresh air and lots of times with friends, nothing better.
Second one asked by
Ellen
:
"Where do you like to Shop for clothes?" -
Kohl's...I adore their clothing! Especially Sonoma! Also love JcPenney's - especially A.N.A brand! Those have been my two go to place a lot recently. I do like Target, but I hate their plus size section (it's like 3 racks) and I am still just a little big for their XXL juniors but I manage if I do find something there.
So now for my question to you...
What is your favorite TV show?
Mine is Ally McBeal...tough it's not on anymore. I did love Lost, but that's gone now too... As is ER - I think right now Grey's Anatomy is the big one for me!
Well thus concludes my meme's for today....
Hope you enjoyed this blog!