Another Friday Meme Day!!!!
I am not a huge fan of reading. I was in elementary school, but as I got older, it became more of a annoyance to me rather than an enjoyment. Maybe that's because I was never interested in the books we had to read for reports or classes, but at some point I went from loving reading to not wanting to do it at all. Recently though, I have started to like it again. Now, I am picky about what I read as I want it to keep my attention, teach me something, and make me laugh.
This all started when I met my dear friend

Marla

. She is an author and her books are super easy, fun, and an enjoyment to read. I met her through my husband, he knew her and her husband through working at a church camp together. We moved to central ohio the same time they moved back and I got to meet them. Marla is a very open and honest lady and a great inspiration to me (stop blushing Marla!). Her books have seriously renewed my love of reading.
What are some of your favorite books to read? Have any good recommendations?
Your turn. Ask a question on your blog, head over to An Island Life and link up! This is a great way to meet new bloggers! :)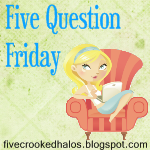 1.
What is your favorite Halloween candy?
Candy Corn, but I don't eat it much...
2. Do you fold your socks?
3. What is something that you wish you had been warned about?
Hmmmm, Probably that curly hair is frustrating....
4. What is the most significant difference between you and your significant other?
He's a reader and super tech savvy, I am not. I do read some, but my hubby reads ALOT and he works for Apple...
5. What are three words you would use to describe yourself?
My answers: Sensitive, Caring, Procrastinator
Hubby's Answers: Cute, Playful, Caring
(Playful, really?)
Your turn, answer the above 5 questions and then head over to My Little Life and link up! It's another GREAT way to meet new bloggy friends!