So we are just a few short weeks away from Christmas and as it draws near I am curious:
What would you like to find under the tree this year?
Other than an exorbitant amount of cash? No in all seriousness, nothing would make me happier then a new cell phone cover...the green sparkly one I like *hint hint*, boots or gift cards for boots or a Miche Bag.
Your turn, ask your own question and then link up at
An Island Life
.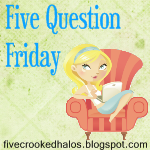 1. Do you open presents on Christmas Eve or Christmas Day?
Christmas Day. Growing up though we did some on Christmas Eve, but now, just Christmas Day.
2. What is your favorite Christmas cookie (or candy)?
I suppose Peppermint Chocolate Chip Cookies...
3. What's the worst Christmas gift you've ever received?
A hideous necklace I got from my husband's grandma....it was donated shortly after!
4. Christmas song that you love?
SO many, it's hard to choose...Oh Holy Night I think it my top currently.
5. H
ow many trees do you put up?
Just one.
Your turn, answer these questions then head on over to My Little Life & Link Up!
1. I wish life were a little slower right now...but tis the season I suppose.

2. Bed sounds good...that's what I'm thinking.

3. Please bring me some food this next week, I am so busy!

4. A Caramel Brulee Latte is so amazing.

5. One of my fondest hopes is that I touch the lives of as many people as my Pastor did.

6. My friend C let me borrow some pants and my friend M is letting me borrow some shoes and I just wanted to say thank you.

7. And as for the weekend, tonight I'm looking forward to the Vista staff Christmas party, tomorrow my plans include choir practice and Sunday, I want to sleep, but I have church then choir again!!
Your turn, fill in the blanks and then leave a comment with a link at Friday Fill In's.