I love pizza - I love different kinds of pizzas with different toppings, one of my favorite kinds of pizza is called Mac & Cheese pizza - yes, as in macaroni and cheese on a pizza - I mean could it get any better sounding! But in general, since that pizza is particularly fattening - I typically just get a yummy veggie pizza.
So what about you:
What is your favorite pizza topping?
To Join in the Fun, head over to
An Island Life
for the rules and to link up!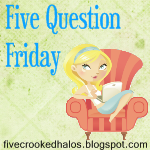 1) What movie could you watch over and over again and not get tired of?
It's a toss up between Cars & Elf. Parker watches Cars everyday so I can pretty much recite it, but my personal fav that I like to watch is Elf.
2) What's your biggest pet peeve right now?
I have so many...but my big one right now is when people complain about U-Scans...if you don't know how to use it then don't. And if you do know how but you are gonna complain about it, find an isle with a cashier...please. And also, don't huff at me when I am bagging my groceries as fast as I can and you are in a hurry, clearly if I have 50 items and you have 2, I am gonna take a bit - there is a reason there is a 12 or less isle - just sayin'!
3) If you had to describe your best friend in 5 words or less, what would you say?
She just gets me!
4) If you did not have to worry about money or go to school, what would you do for a living?
Exactly what I am doing. I love my job as a stay at home mom/work at home mom for my church. I am right were I want to be with my career...I couldn't be happier!
5) What is one "splurge" item, that you will always buy, no matter what the cost?
I don't know if this counts as a splurge item - but Frizz-Ez. I have naturally curly, thick, frizzy hair and it keeps it from getting to frizzy. It's more than I would prefer to pay for hair products. If that doesn't count then I guess I don't have one - in general, I don't often splurge anymore.
Your turn, head over to
My Little Life
for the rules and to link up!