So glad it's friday! It's been one of
those
weeks. I just want it to be done...over with....just go away this week! I can't seem to get myself to get back into the swing of things after last weekend away! Hopefully I can get some rest this weekend and be back at it on Monday!
On to fun stuff! My Aloha question is this: How do you like your orange juice? Pulp, no pulp, high pulp? If you don't drink OJ, do you like a different kind of juice?
As for me, I like medium pulp OJ....nom, nom!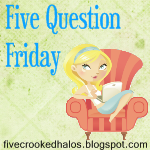 1) Have you ever testified in court? For what?
Nope, never ever - in fact I dread ever getting the summons to serve on the jury for jury duty...it sounds so boring.
2) Do you still have your wedding dress?
Yup, it's at my in-laws house. I think I have decided I want to just give it away.
3) Is there a special place you like to go when you are happy, sad, stressed, ect....
Yup, shopping....I love retail therapy. Or to bed, I like to nap!
4) If you have kids, do they sleep with you? If you don't have kids...will you let your kids sleep with you if/when needed?
I only let Parker sleep with us if absolutely need be. Like when we go out of town, he will sleep in bed with us...but at home, he never really needs to or wants to.
5) Do you watch late night tv?
Sometimes....just kinda depends on how tired I am and what's on.