Hello Friends!
I am addicted to American Idol - especially now that Simon is no longer on it (he always annoyed me) and also because I like Steven Tyler! Anyways, so the other night at the end of the Milwaukee auditions they did the "the sob story" that they normally do at the end. However this story to me was just beyond moving. It was about a man who's fiancee had been in a car accident 2 months before their wedding day. She suffered a traumatic brain injury and was in a coma for a while and what not. You can see the story here:
Chris Medina Story
My question has 2 parts: Do you watch idol? If so, what do you make if their "sob stories"?
I personally at times don't like them, there are times I feel they may not even make a difference and what's the point of putting it out there for the world to see. However, there are some that (and this is my opinion) that should be shared. If they didn't share it now, it would come out, especially in the case of winning the whole thing. But that's me!
You can do Aloha Friday too! Head over to
An Island Life
for rules and to link up!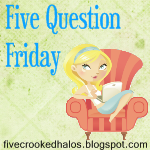 The Questions/Answers:
1) If you had $1,000 to donate to a charity, what would it be?
I would donate it to March of Dimes. Parker was a preemie and I just feel the closest to that charity. They do a lot for the preemie community.
2) Snow days: do you welcome them happily or are they a pain in your butt?
I welcome them because it just means I get to stay in! Parker isn't in school yet so it doesn't affect me much on that point. Though I don't like snow.
3) What talent do you wish you had and why?
Hmmm, that's a good one! I don't know. I wish I was more crafty and frugal.
4) Are you a news, politics, or celebrity gossip junkie?
I am a celebrity gossip junkie - like bad, I need rehab or something!
5) What is your favorite "cocktail"? (Are you a beer person, a kiddie cocktail junkie, or perhaps your more the "Cosmo" kind?! Anything flies...don't hafta be alcoholic)?
I generally don't do anything alcoholic. If I do it's probably going to be a Mango Margarita - yum! Otherwise I don't drink! I don't really even do virgin things...I just would rather have a soda!
Your turn! Head over to
My Little Life
for the rules and to participate in this 5 question friday!